A LOT of people ask me how to get started in the comedy and keynote speaking business. I always take time to share my path with them. BUT I also always preface my tips with "I'll tell you, but you're probably not going to do it." I don't say that to be mean, I say it because this business is HARD. And hard usually has a lot of people running in the other direction.
Doing this job, or really any job, usually takes a lot of work and many, many different paths. In my humor news article this quarter, I touch on one of the secrets to my success. There really isn't one path to success in most jobs, it's slightly different for everyone.
So take a 2 minute humor break and read "Making Crap Up: The Key to Success" Just looking at the title . . .maybe you can relate!
Here's my newsletter article. Check it out.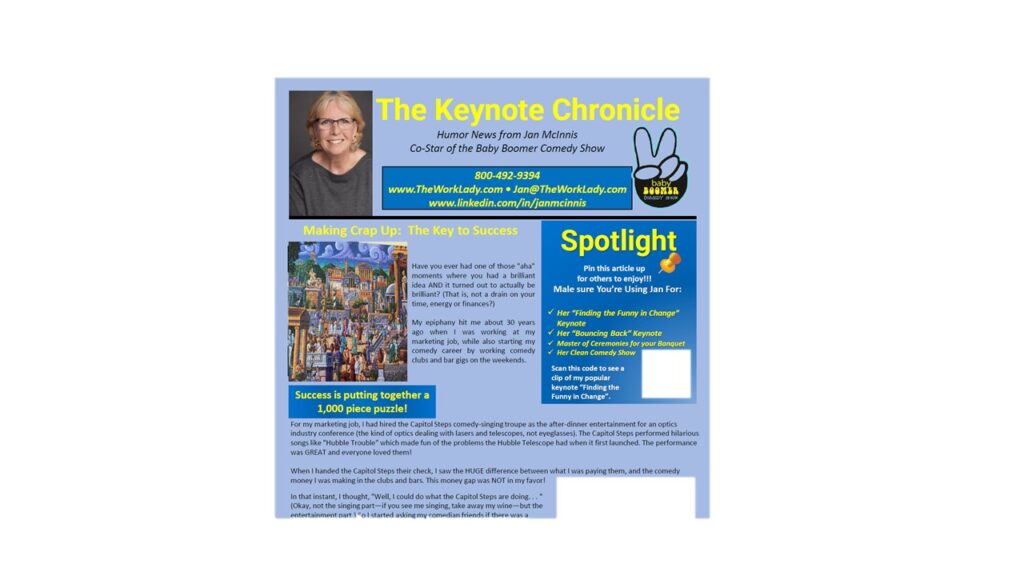 About Jan
I've written for Jay Leno's Tonight Show monologue as well as many other people, places, and groups – radio, TV, syndicated cartoon strips, and even guests on the Jerry Springer show (my parents are proud). For 26+ years I've traveled country as a keynote speaker and comedian sharing my unique and practical tips on what business leaders can learn from comedians (no, it's not all about telling jokes). I can be reached at www.TheWorkLady.com, or Jan@TheWorkLady.com  I'm also a GREAT Master of Ceremonies. Click here for my master of ceremonies website.
And for more insights into my comedy career, check out this blog post – click here. And if you want to know even more about being in this business, check out my book on Amazon titled "Convention Comedian: Stories and Wisdom From Two Decades of Chicken Dinners and Comedy Clubs." I also have a humor writing book titled "Finding the Funny Fast: How to Create Quick Humor to Connect with Clients, Coworkers and Crowds."