Yes Jan's at it again! This time it's a new adventure as I'll be performing my one person play on Home Sharing titled "SuperHostess." After 27+ years in the comedy business, it's fun to do something totally different. I don't stand there with a mic and do joke, joke, joke . . I actually walk around and tell stories.
"SuperHostess" is about my 6+ years home sharing my house through a home sharing site (think VRBO/AIRBNB/HomeAway). I'm performing it on 3 Saturdays in June during the Hollywood Fringe Festival – a festival where literally anyone can do any kind of play they want. 
WARNING: As a comedian, we practice our jokes and test, test, test. This is NOT the case here. It's the first time I'll be performing this, so we really don't know what we'll be getting (me included). This is more story than stand up, BUT you will learn something about home sharing as I tell my story.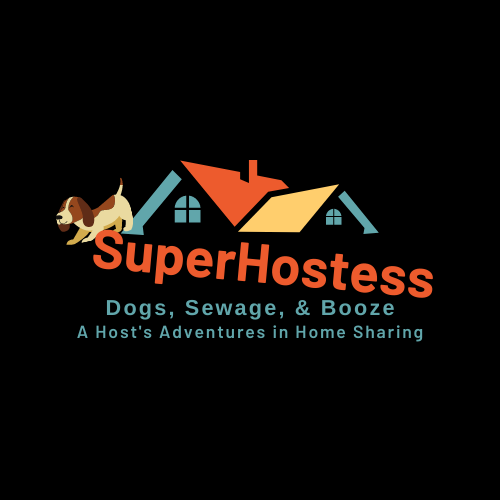 PLEASE COME OUT!! Details on the play and tix info are:
The Hudson Theatre, 6539 Santa Monica Blvd., Los Angeles, CA.
SuperHostess runs 75 minutes. The dates are June 4 (6:15 – 7:30), June 11 (2:15 – 3:30), and June 25 (2:15 – 3:30)
Tickets are $15 or $10 with the discount code: Super. Click Here to purchase tickets
About the Play:
The play website is here: SuperHostessPlay.com
Strangers living in your house? What a GREAT idea! As a professional comedian and keynote speaker who travels a ton, Jan McInnis took the plunge into the home sharing community as a host to make a few bucks while she was on the road. Turns out money wasn't all she got. Weird questions, a brand- new $15,000 water pipe (yay!), an education in other people's living habits, and some friends from around the world are just a few of the other "perks." SuperHostess is her funny, frustrating, and eye-opening true trek into the world of sharing her home with strangers. All the stories are real, though the identities and details have been changed.
Please tell your friends. . . Thanks!
Jan Jan@TheWorkLady.com (for questions)
About Jan McInnis: For over 25 years Jan has traveled the country as a full-time (no waitressing involved) comedian, and keynote speaker stepping onto stages in front of thousands of groups in 49 of our 50 states (come on Alaska, hire her!). She is also an established comedy writer who has sold material to everyone on the planet from Jay Leno's Tonight Show monologue to guests on the Jerry Springer Show (my parents are proud!).
Jan is also the author of 2 books: "Finding the Funny Fast. How to Create Quick Humor to Connect with Clients, Coworkers & Staff," and "Convention Comedian: Stories and Wisdome from Two Decades of Chicken Dinners and Comedy Clubs." This is her first attempt at a one-person play, so it might suck. Or not. But come out and see what she comes up with. We'll have a good time whichever way the review bounces!
P.S. Don't forget, we're wrapping up Nurses Week . . click here for my post with some health humor!
Yes. This week it's National Nurses Week, last week was National Municipal Clerks Week, National Tourism Week, and National Teachers Week. There is literally a week for EVERYONE. And they all need a little humor.
When you're adding humor, check out what week it is – by adding a little humor for people celebrating that week, you can make an instant connection with people in that profession. You'll also get a better chance of people posting and re-posting and passing your humor around to others in their profession.
Below are some jokes I posted for the various weeks. I've also included the jokes in a sharable form AND I included quotes from people in those industries. These quotes are nice proof to others that I have spoken successfully in those industries and perhaps they would want me at their event.
The Jokes
National Nurses Week Humor:
"I read in AARP magazine that baby boomers are tattooing medical instructions on their chests, like COPD or GERD. This is so if they get sick in public, then when the medical people arrive, they'll know what to do. I'm going to do that too. I'm going to tattoo PMSBO – PUT MY SHIRT BACK ON! I'm in public!" Jan McInnis
National Tourism Week Humor:
"Southwest Airlines says they are the 'Dating Airline' because they have that open seating policy where you can sit wherever you want. Really? Nobody meets on Southwest. What's the pickup line – Hey, I'm cheap too!" Jan McInnis
Municipal Clerks Week Humor:
"At my last company we did all of
this team building & TQM stuff, which means employee empowerment and ownership . . . so I took the copier. I never owned one of these!" Jan McInnis
Teacher Appreciation Week Humor:
"Kids are lucky. They've got all sorts of great technology, like the Internet, to do their research. What did we have? Encyclopedia Britannica which your parents bought ONCE. Which means you could only be as smart as your oldest sibling." Jan McInnis
I hope you're saying thanks to the people in your life who work in these professions – they totally deserve it!
check out other posts of mine by clicking here – this link is about burning lunches in celebration.
Jan
My Main Website – https://www.TheWorkLady.com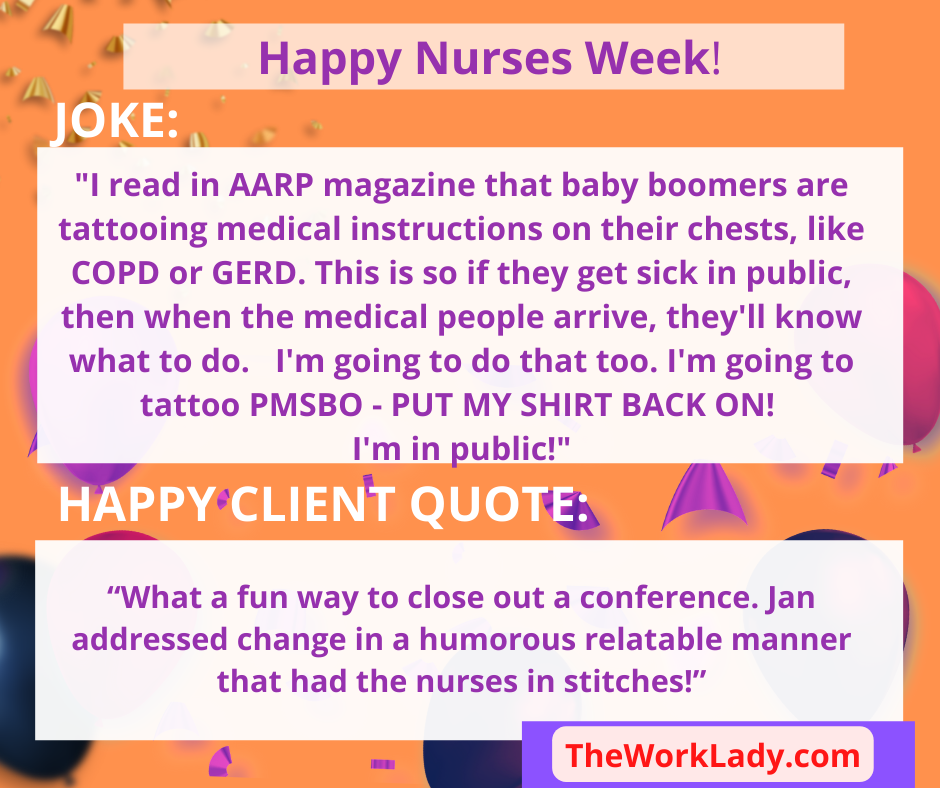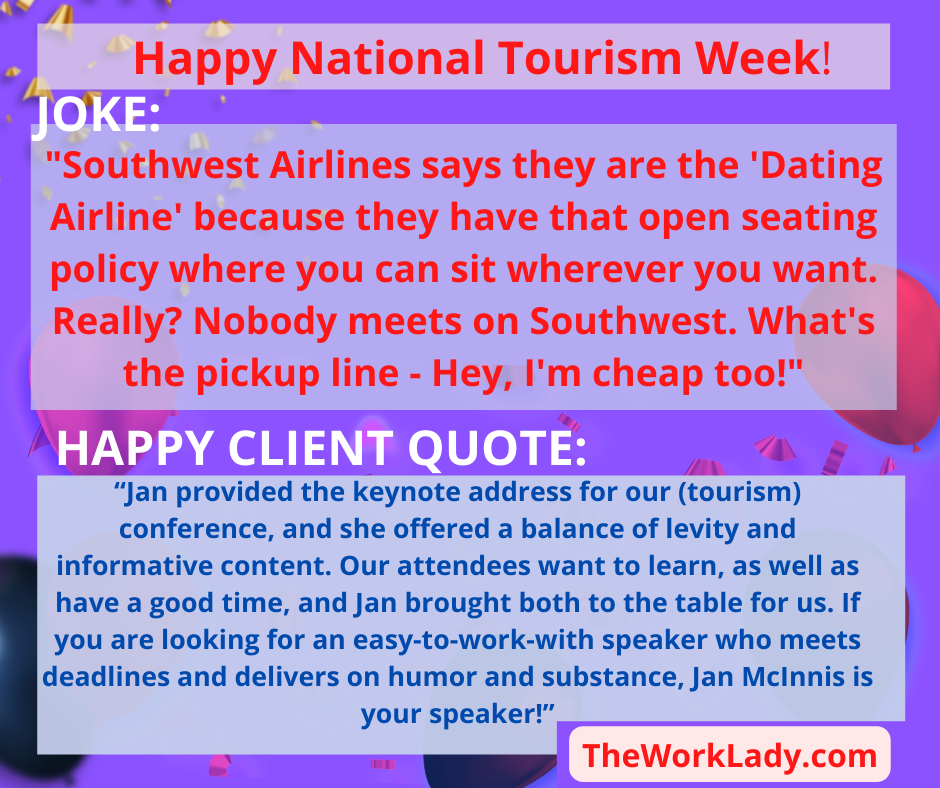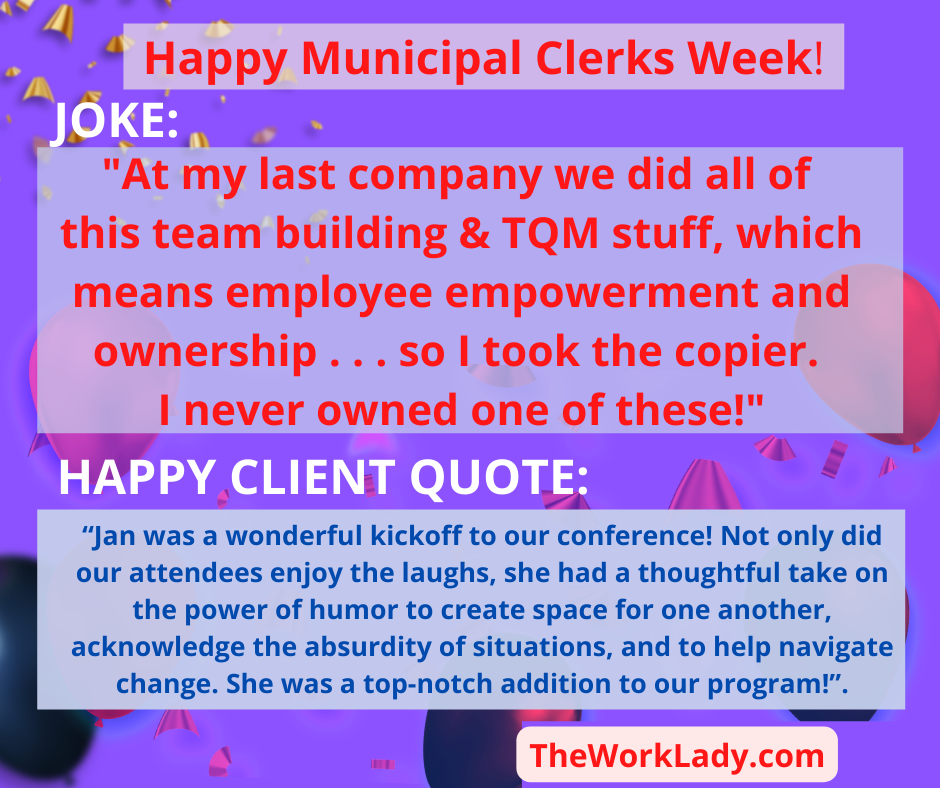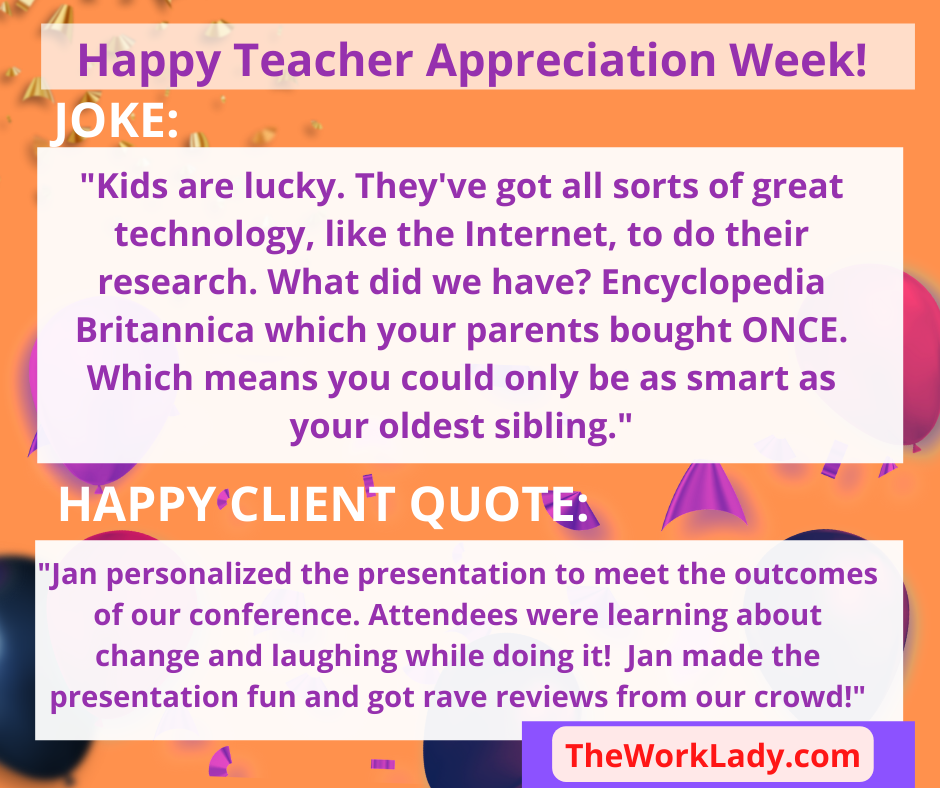 Today I turn my blog over to another blog . . the Happiness Journey podcast and blog! I was on it recently talking about humor and happiness.
I made the point that no one can MAKE you laugh . . .people have to be open to finding the humor in situations and in their own life. BUT I can share ways to find the humor in your life.
This is an interesting podcast, and I was happy to be interviewed on it. Here's the link below. Please check it out!
About the Happiness Journey Podcast
Life is challenging, no doubt about that. Stress may keep you anxious and with time, it can take its toll on you. Many can struggle when dealing with these uncertainties, and it can be hard to have someone encouraging you and help you keep moving forward. My many inspiring guests and their stories will uplift you, bring back the love for life and provide you with key insights on how to manage your difficult challenges. Stay motivated by those who made it happen and changed their own life by taking affirmative action and start living their lives mindfully. Happiness is from within. Support this podcast:
And this is a little about me:
About Jan
For over 25 years Jan McInnis has traveled the country as a keynote speaker, comedian, comedy writer, author, and Master of Ceremonies. She has shared her unique and practical tips on how to use humor in business (yes it's a business skill!) with thousands of organizations from the Federal Reserve Banks to health care groups, education groups, and more. She is the author of 2 books: "Finding the Funny Fast – How to Create Quick Humor to Connect with Clients, Coworkers and Crowds," and "Convention Comedian: Stories and Wisdom From Two Decades of Chicken Dinners and Comedy Clubs."
Jan's clean humor has landed her in featured articles in the Washington Post, the Wall Street Journal, and the Huffington post, along with hundreds of radio stations and TV interviews.
Jan is also an established comedy writer who has written for Jay Leno's Tonight Show monologue as well as many other people, places and groups – radio, TV, syndicated cartoon strips, guests on the Jerry Springer show (her parents are proud).
Jan's popular keynotes include "Finding the Funny in Change" which addresses how to use humor to handle change, and "Bouncing Back: Handling Setbacks Like a Comedian," which is on resilience. Jan can be reached directly at TheWorkLady.com
Check out my other blog posts like this one . . .click here for other blog posts
Hilarious jokes are all set – you've got some samples of jokes you've written and some real live people – radio, TV, comedians, etc. . who will vouch for you that you're, or at least the jokes you write, are funny! So where do you now go to actually write...