You may not have $10 million to spend on a funny ad like the Super Bowl Commercials, BUT you can still write humor like a Super Bowl advertiser to make your marketing message stand out.
Here are 5 ways that many of the ads found the humor – and you can do it for your business too.
1. HAVE famous people doing unusual stuff.
Get your "Ben Affleck" to sell your "donuts." Who in your industry is famous and what silly thing can they "sell" to bring attention to your business/product /service? Or as in the Uber P-diddy ad, get your CEO to do something out of character – like P-diddy writing a jingle. It's funny and it grabs people's attention,
2. HIGHLIGHT a little-known fact in your industry that encourages people to explore further.
How many of you knew about women's flag football in the NFL? Seeing flag football star Diana Flores being chased makes me want to watch flag football!! And Tubi's "Rabbit Hole" ad kinda makes you want to see what shows are on Tubi. Make a list of what people DON'T know about your industry and highlight that.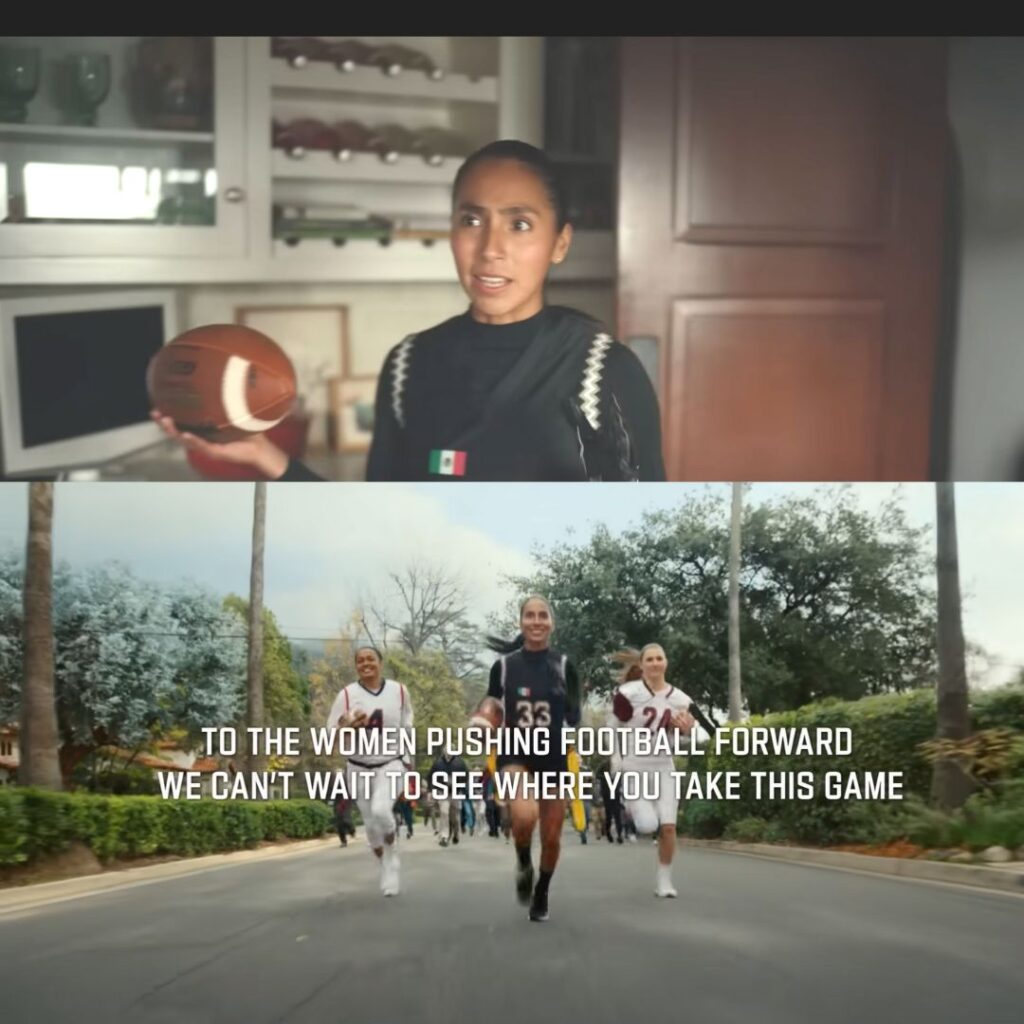 3. BRING a label or tag line to life.
Workday, an online management company, had real-life rockstars getting upset because companies are using the word "Rockstars" for their employees. Is there a word or tagline in your industry that is used where it's not supposed to be used? Illustrate THAT for the humor.
4. LIST unusual things to do with your product.
Bud Light had people drinking it while dancing to Muzak hold music. Who doesn't feel like they need a drink while being on hold? And it goes with their tag line: "Easy to Hold, Easy to Drink." They associated "hold" with holding a Bud Light and Being on Hold. What words are associated with your product that have other meanings that you can attach?
5. CONNECT your product or service with a popular show.
T-Mobile connected with Grease and John Travolta and Popcorners, a chip company, associated themselves with Breaking Bad. Check popular, trendy or nostalgia shows that your clients/industry relate to and then make a connection with your product or service.
There are many other humor techniques that were used in the Super Bowl Commercials, but these are five that will get you started.
As with all humor, START SMALL. Add in 1 humor element, and have some fun . . . once you get that first laugh, you'll have the comedy "bug" and will want to keep going.
Jan
Check out my Humor Writing Tips videos on Youtube. 1 minute videos with Humor Writing Tips for business or personal
For More humor writing tips, check out my other blog posts such as this one
Someone asked me recently "What is a master of ceremonies?" (AKA "emcee" or "MC"). I can sum it up in 4 words – Keeps The Event Flowing.
Okay, there's a LOT more to it than that BUT if you haven't explored using a Master of Ceremonies for your conference or event then you may be missing out on a GREAT resource. And, while this is a comedy writing blog, you MAY be asked to host an event because you've gotten so funny . . . so here's 5 things that you need to do as the Master of Ceremonies.
Sure good food and drink, excellent content, and fun decor are important for an event or conference, but if attendees don't feel included or have to watch someone who doesn't want to be on stage – such as a volunteer or staff person – then the event can lose its pizazz.
Here are 6 Things a GREAT Master of Ceremonies will do for your event
1. Make the attendees FEEL welcome – The Emcee kicks off the event by letting everyone know what a GREAT time they're in for – NOT listing out where the bathrooms are located. As a comedian emcee, I always do some appropriate humor based on my research of the group and the event. It you're not using a comedian, the emcee will still create some hype so the audience members' eyes are on the stage, not their cell phones.
2. Provide professional introductions. We emcees practice the names and know when to joke and when not to. People are proud of their accomplishments, so their moment on stage should be a nod to that with their name pronounced right and their successes highlighted appropriately.
3. Keep everyone engaged the entire time . . . even the people not being recognized. I always make sure to include some humor and comments for the people who aren't in the spotlight. After reading off a long list of project titles for a technical conference, I recently joked to the spouses that, "this is the reason you DON'T ask how their day went!"
4. Handle the unknown. Stuff happens. The award winner steps out to the restroom or the electricity cuts out, but the Master of Ceremonies handles the stuff on stage, allowing the meeting professional to handle things off stage. You can't do both (or at least you shouldn't have to!)!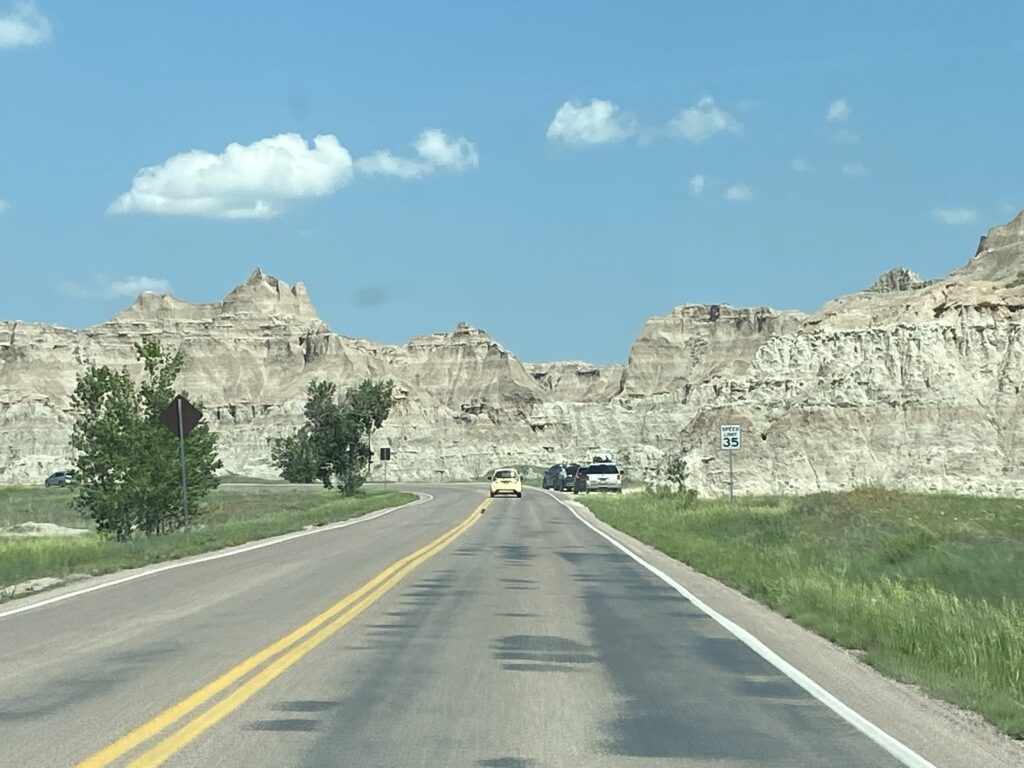 5. Shine some light on your sponsors. Sponsors should get more than a quick PowerPoint slide and a mumbled thank you; the emcee knows this and will highlight sponsors accordingly, so the sponsor wants to sponsor again and again.
6. Keep things rolling and on time. Speakers speak too long. Speakers speak too short. But your banquet food is coming out at a scheduled time. Professional MC's know this and can edit or expand their remarks on the fly to fit the time.
Oh and P.S., most of us professional Emcees can also add some extras to your event such as a keynote!
If you want my article on tips on HOW to emcee your own event, send me a note.
But whatever you do – emcee it yourself or use a professional – Make it fun. Make it memorable. Make people want to come back.
Here's my ComedyEmcee website
And here's another post I did about being a Master of Ceremonies – happy emceeing!
What does the Thunder From Down Under male "dancing" group in Las Vegas have to do with me? Well, I had an experience with them. Read all about it in my latest humor article titled "Thunder!"
I also had an experience with gift cards . . . which I also talk about in this humor article. Just shows you comedy makes for weird matches. A quick excerpt is here . . .
Years ago in Las Vegas,
I walked into the green room to get ready for my show at the Excalibur casino hotel and was confronted by about a dozen guys in various stages of undress—from thongs to short shorts and outright no clothes! What?! My comedy show was in the same show room as a very popular Australian men's "dancing" group: the Thunder from Down Under.
CLICK ON THE LINK BELOW TO READ THE WHOLE ARTICLE – 2 MINUTES OF YOUR TIME!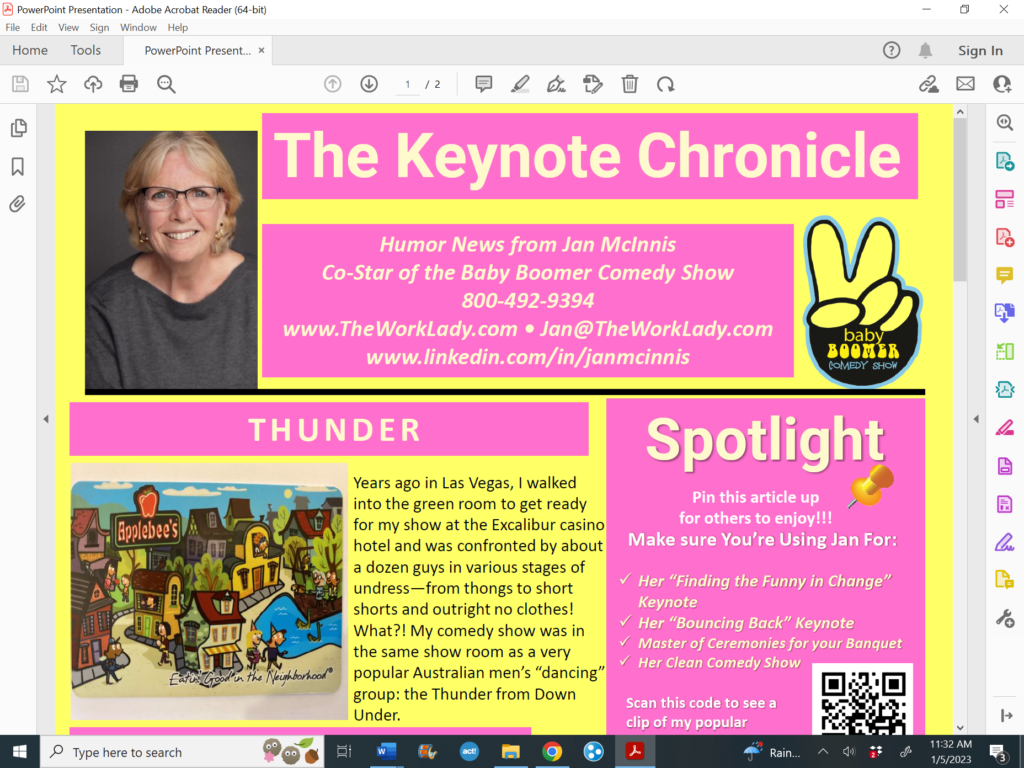 Have a great first week of the new year!! Thanks for reading!
Jan
PS. . . here's a link to another one of my blogs. Check it out! I specialize in humor for businesses. Click Here,
About Jan
Jan McInnis is a Comedian, keynote speaker, Master of Ceremonies, & comedy writer. She has written for Jay Leno's The Tonight Show monologues as well as many other people, places, and groups—radio, TV, syndicated cartoon strips, guests on The Jerry Springer Show (her parents are proud). For over 20 years, she's traveled the country as a keynote speaker and comedian, sharing her unique and practical tips on how to use humor in business (yes, it's a business skill!).  She's been featured in The Huffington Post, The Wall Street Journal, and The Washington Post for her clean humor, and she's the author of two books: Finding the Funny Fast – How to Create Quick Humor to Connect with Clients, Coworkers, and Crowds, and Convention Comedian: Stories and Wisdom From Two Decades of Chicken Dinners and Comedy Clubs.
Hilarious jokes are all set – you've got some samples of jokes you've written and some real live people – radio, TV, comedians, etc. . who will vouch for you that you're, or at least the jokes you write, are funny! So where do you now go to actually write...