What does the Thunder From Down Under male "dancing" group in Las Vegas have to do with me? Well, I had an experience with them. Read all about it in my latest humor article titled "Thunder!"
I also had an experience with gift cards . . . which I also talk about in this humor article. Just shows you comedy makes for weird matches. A quick excerpt is here . . .
Years ago in Las Vegas,
I walked into the green room to get ready for my show at the Excalibur casino hotel and was confronted by about a dozen guys in various stages of undress—from thongs to short shorts and outright no clothes! What?! My comedy show was in the same show room as a very popular Australian men's "dancing" group: the Thunder from Down Under.
CLICK ON THE LINK BELOW TO READ THE WHOLE ARTICLE – 2 MINUTES OF YOUR TIME!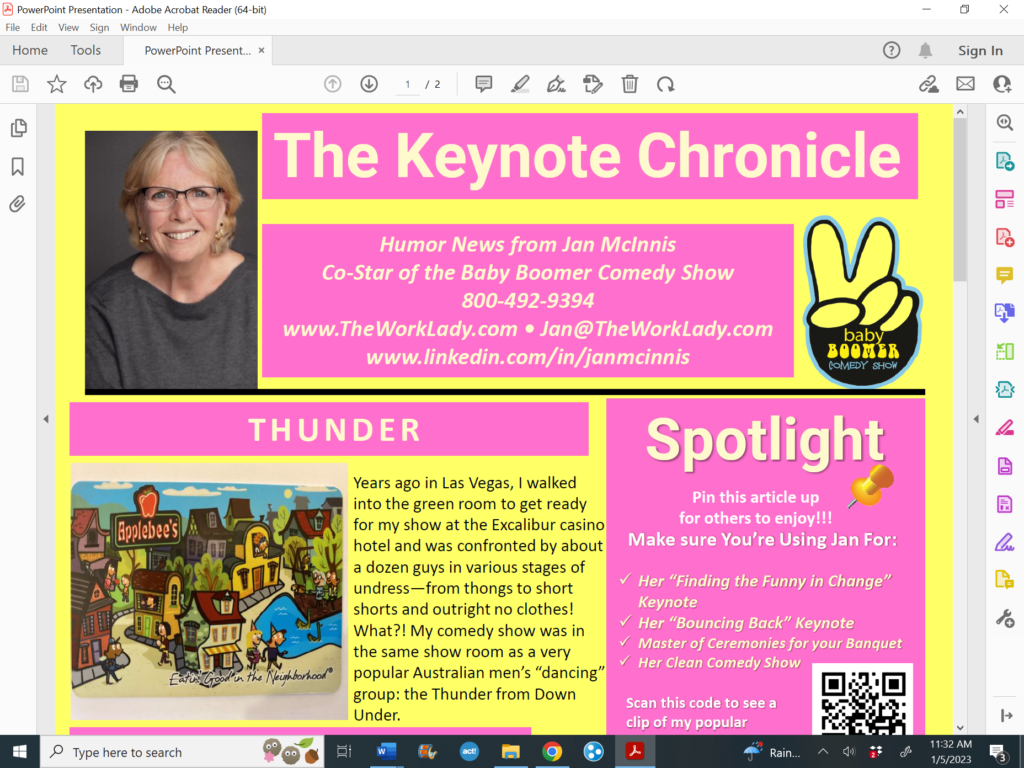 Have a great first week of the new year!! Thanks for reading!
Jan
PS. . . here's a link to another one of my blogs. Check it out! I specialize in humor for businesses. Click Here,
About Jan
Jan McInnis is a Comedian, keynote speaker, Master of Ceremonies, & comedy writer. She has written for Jay Leno's The Tonight Show monologues as well as many other people, places, and groups—radio, TV, syndicated cartoon strips, guests on The Jerry Springer Show (her parents are proud). For over 20 years, she's traveled the country as a keynote speaker and comedian, sharing her unique and practical tips on how to use humor in business (yes, it's a business skill!).  She's been featured in The Huffington Post, The Wall Street Journal, and The Washington Post for her clean humor, and she's the author of two books: Finding the Funny Fast – How to Create Quick Humor to Connect with Clients, Coworkers, and Crowds, and Convention Comedian: Stories and Wisdom From Two Decades of Chicken Dinners and Comedy Clubs.