Can you spend 6.5 million in 30 seconds???? Well the Super Bowl advertisers did! That's what an ad costs in 2022.
And according to a USA Today Survey,
the top ad was Rocket Mortgage's ad starring Barbie. A link to the ad is below.
I've also noted below the three things that they used to make the ad a hit. People get intimidated by using humor because they think they have to start from scratch . . .but you probably already have things that you can make fun of. So do it!
Here's the ad: https://youtu.be/ukLeyxOA8uk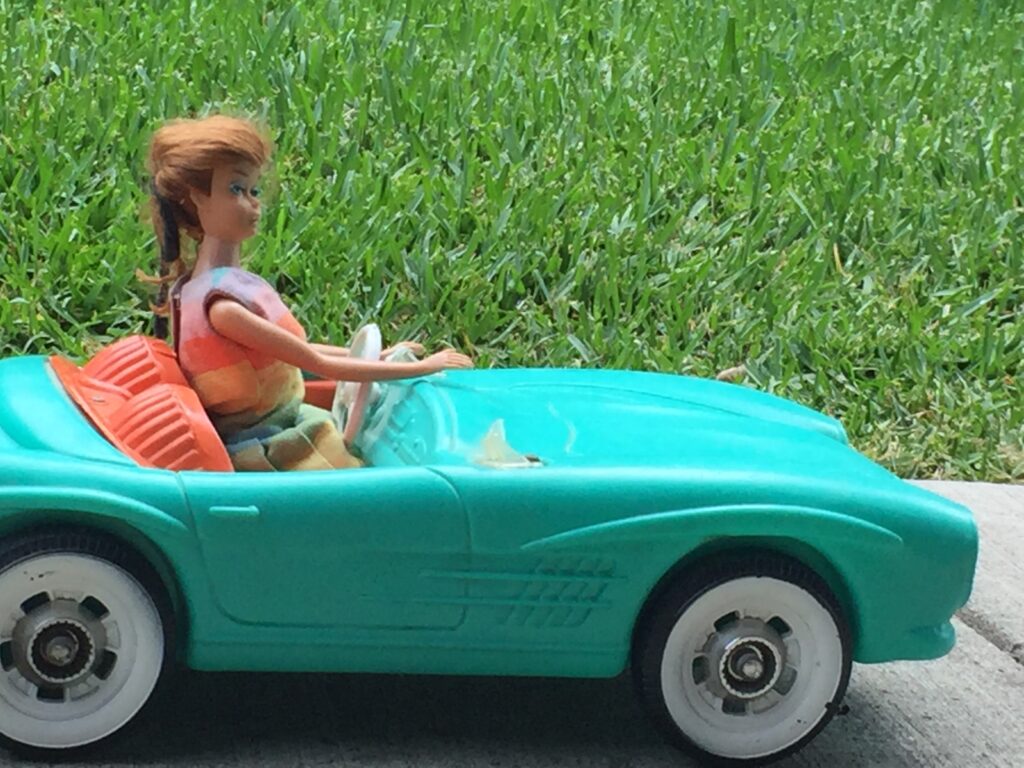 Humor in Business IS a Billion dollar business.
Below are 3 of the things they used to make this ad a funny hit. It's not rocket science and it doesn't have to cost a lot. Humor is all around us if we just start looking for it.
How can you use these ideas to add humor to your message WITHOUT spending millions?
1. Acknowledgement. Their ad totally empathizes with what people are going through now when trying to buy a house. Multiple offers and words like "all cash" and "good bones" were used because that's what people are probably hearing a lot. What are your clients going through that you can acknowledge with a little humor?
2. Familiarity. Even if you never had a Barbie, you know about Barbie. So of course we're interested in seeing what happens when Barbie goes to buy a house. What do you have in your industry that people are familiar with and would like to follow?
3. Cuteness. They had cute kids dressed up as adults. The old saying in comedy is never follow kids or animals. That's because you will not win! So use it to your advantage in your marketing. What thing can you use in your marketing that makes people go Awwwww.
I've been preaching forever about using humor in business because it works. Companies know that HUMOR SELLS whether you're trying to sell a house, a car, crypto, your services, yourself, or whatever it is, HUMOR SELLS. Use it in business and you will see some positive rewards!!
Jan
Check out my other blog articles including this one on Resilience – click here.
Have you ever been at a serious, or worse a sad event, and felt the urge to laugh? I think that's our brain trying to find a way to cope.
Laughter and reducing stress have been linked before, but all I know is that laughing works. Using humor to bounce back from a rough day/week/month, is good . . . and comedians know about rough days.
Comedians learn our jobs by making mistakes. We get up at an open mic, and that's how we learn things like stage presence, timing, and even if the jokes we wrote are funny. There are MANY nights where we get our butt handed to us as we learn the ropes – but there is no other way around it. We have to learn by failure.
So aside from being funny, the other skill comedians have an abundance of is RESILIENCE. In order to overcome setbacks, like people staring at us silently, or worse yelling mean things at us, we need to strategies to over come the bad nights so we can move forward.
I was fortunate
to be interviewed on this wonderful podcast – Women Road Warriors – to talk about resilience and how to handle it. Their audience is women truck drivers, but the tips I share are universal. Whether you're driving a truck or working at a marketing job, you'll need to find a way to move through the tough times – humor helps.
A friend of mine once told me that she went to a comedy club, and ended up recognizing the comedian from many years ago back in high school. She said that as she listened to his act, she realized that almost all of his jokes where actual real things that had happened to him. He found a way to find the humor AND get others to laugh with him.
Below is the link to the podcast. Take a listen and pick up a few tips on finding the humor so you can bounce back. And then maybe you can get on stage years later and have people laugh with you.
And if you want a few laughs, here's some funny short stories of stuff that REALLY happened to me. I use them in my keynotes on Resilience, Change, and Communications. Click Here.
And check out my latest newsletter right here!
Keep laughing!
Jan
A LOT of people ask me how to get started in the comedy and keynote speaking business. I always take time to share my path with them. BUT I also always preface my tips with "I'll tell you, but you're probably not going to do it." I don't say that to be mean, I say it because this business is HARD. And hard usually has a lot of people running in the other direction.
Doing this job, or really any job, usually takes a lot of work and many, many different paths. In my humor news article this quarter, I touch on one of the secrets to my success. There really isn't one path to success in most jobs, it's slightly different for everyone.
So take a 2 minute humor break and read "Making Crap Up: The Key to Success" Just looking at the title . . .maybe you can relate!
Here's my newsletter article. Check it out.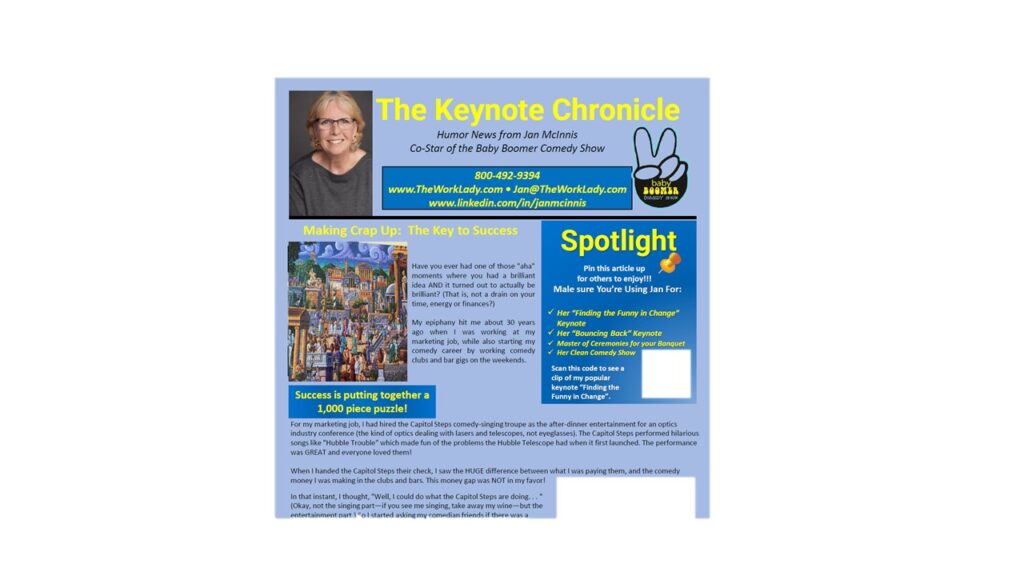 About Jan
I've written for Jay Leno's Tonight Show monologue as well as many other people, places, and groups – radio, TV, syndicated cartoon strips, and even guests on the Jerry Springer show (my parents are proud). For 26+ years I've traveled country as a keynote speaker and comedian sharing my unique and practical tips on what business leaders can learn from comedians (no, it's not all about telling jokes). I can be reached at www.TheWorkLady.com, or Jan@TheWorkLady.com  I'm also a GREAT Master of Ceremonies. Click here for my master of ceremonies website.
And for more insights into my comedy career, check out this blog post – click here. And if you want to know even more about being in this business, check out my book on Amazon titled "Convention Comedian: Stories and Wisdom From Two Decades of Chicken Dinners and Comedy Clubs." I also have a humor writing book titled "Finding the Funny Fast: How to Create Quick Humor to Connect with Clients, Coworkers and Crowds."
So I'm in Las Vegas for a gig today and I thought I'd look for 5 funny things that I can joke with. If you get into a habit of looking for the funny, then it becomes easier and easier until you're doing it automatically. So here's 5 funny things in Vegas....