Yes, it's now possible thanks to Zoom and virtual meetings! Last week I was the Master of Ceremonies for 2 multi-day events at the same time between 3 time zones. It was nuts, but I did it by doing a lot of "time zone math." I had to invest in was two 150 foot eithernet cables that would reach down from the house to the studio, and a stand up desk that sits on top of a table. I already had 2 laptops and a notes holder so I could read both scripts.
Here's my set up from behind the scenes. I had a drape behind me and a projector projecting the 2 logos. I just had to switch back and fourth between the logos depending on what group I was talking to. I'm happy to chat with anyone who has questions. Just email me at Jan@TheWorkLady.com.
Here's to being in many places at once!!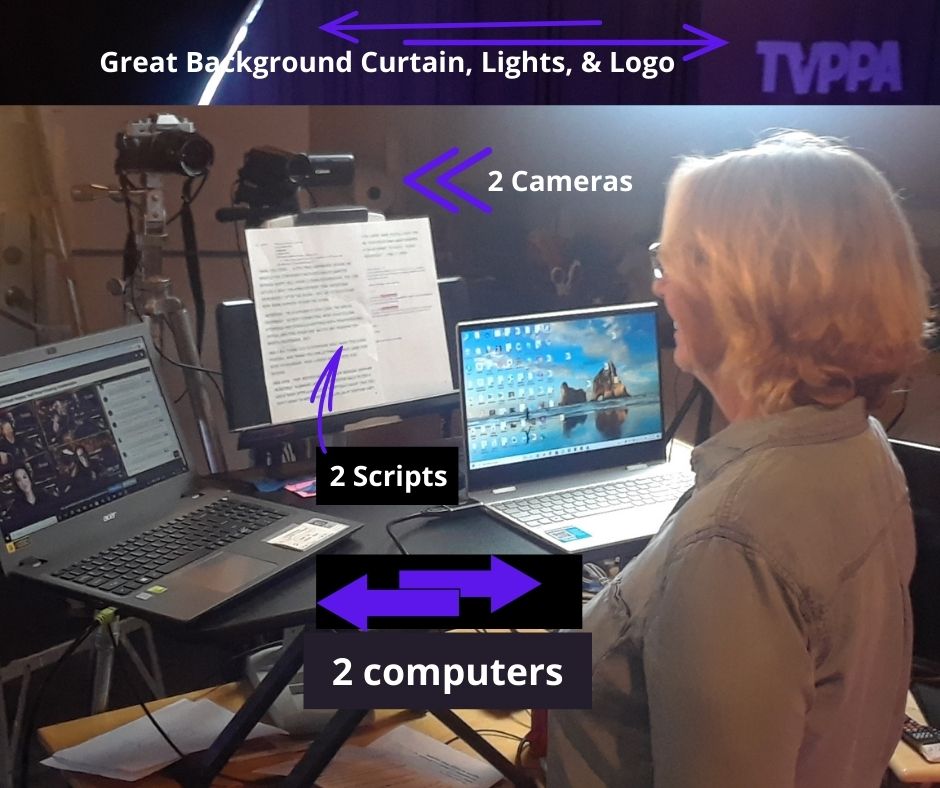 Yep, that's the way the world is running these days – zoom comedy! Who would've thought we could actually make money doing comedy in our living room??? Well we can and I am. So in my podcast this week, I'm offering 5 tips for zooming. Even if you aren't a comedian, you will be able to use some or all of these tips . . .they have worked for me.
My podcast is titled Comedian Stories: Tales From the Road in Under 5 Minutes, and it's produced every Thursday. Here's the link.
https://itunes.apple.com/us/podcast/comedian-stories/id1446046198
Thanks,
Jan
https://www.TheWorkLady.com – My main site
https://www.ComedyEmcee.com – My Master of Ceremonies site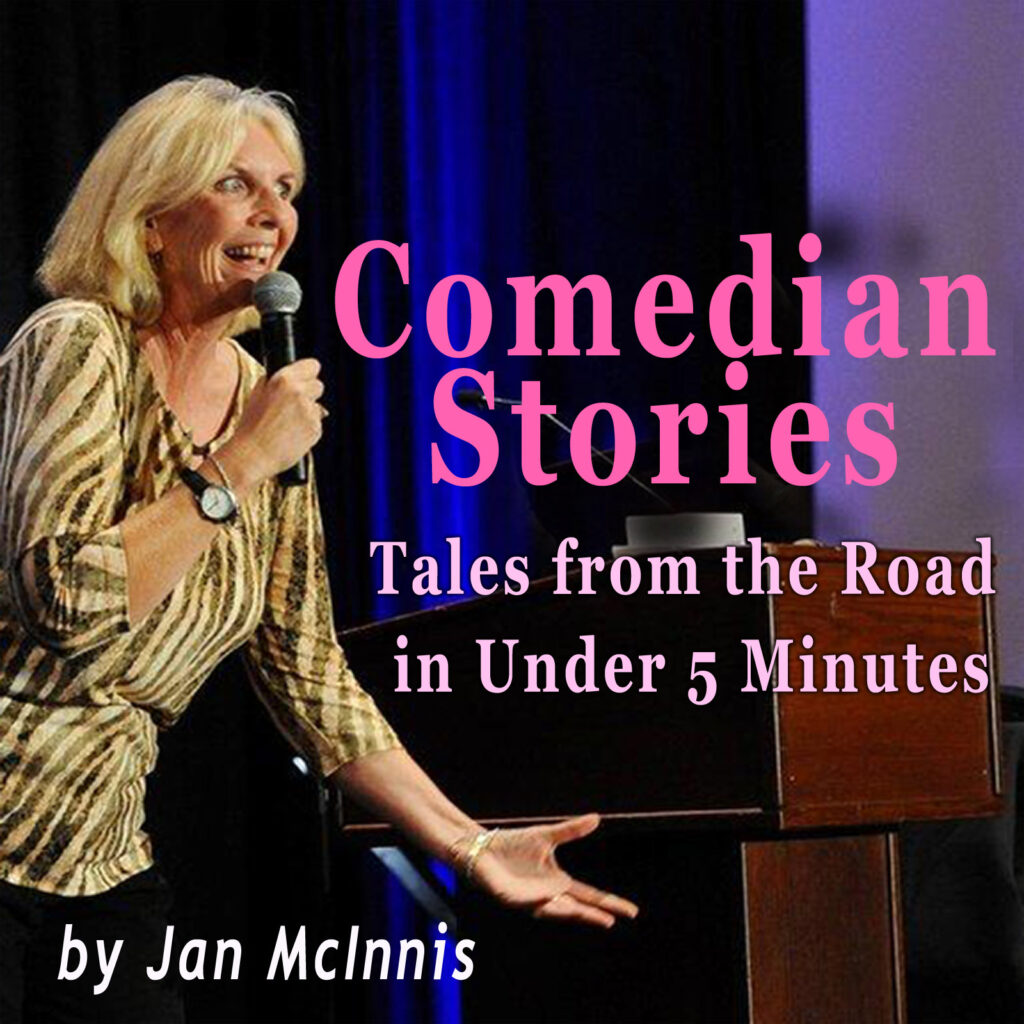 I had a wonderful opportunity to be a lecturer at the Humor and Communications class for Indiana University-Purdue University Indianapolis this week . . . I talked about using humor and gave the students some techniques to find humor fast.
The reason I'm talking about this today, is to illustrate that you never know where your career might lead you! It was a new experience, and one that I never expected.
I'm working on the video from that lecture now. . .so send me an email if you want a link to it when I'm done. And if you know of a college or university communications class that could use a fun and engaging lecture on humor and communications, send me a note!
Thanks!
Jan, Jan@TheWorkLady.com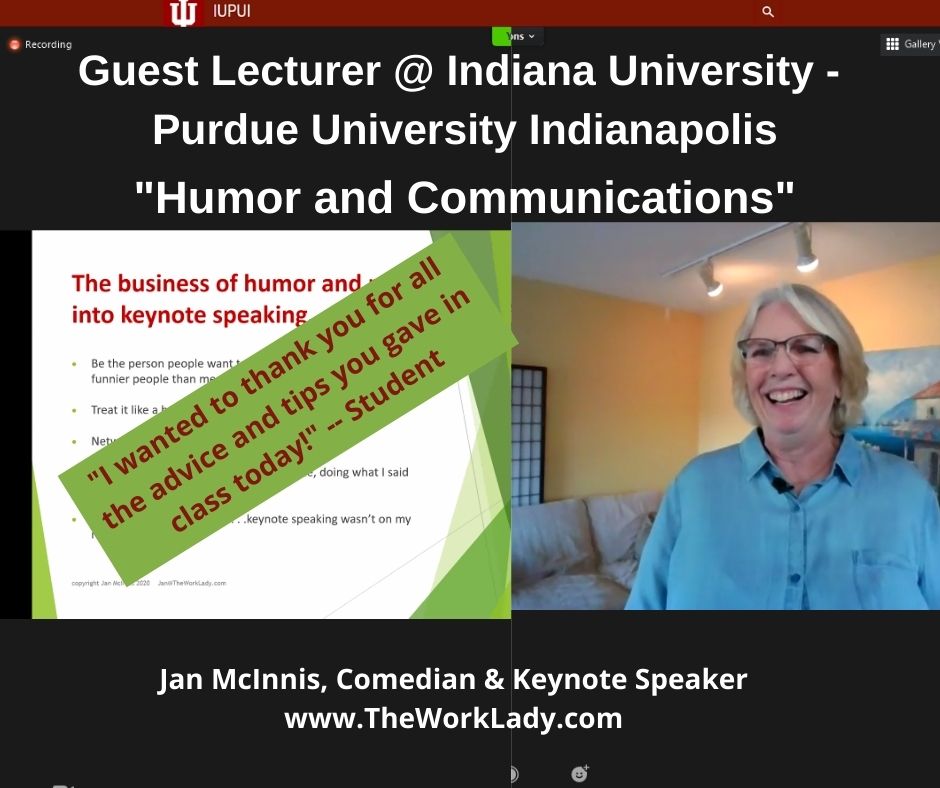 So I'm in Las Vegas for a gig today and I thought I'd look for 5 funny things that I can joke with. If you get into a habit of looking for the funny, then it becomes easier and easier until you're doing it automatically. So here's 5 funny things in Vegas....