Virtual keynotes are NOT going away, so don't be boring! If you've been just hanging out doing the keynotes in front of your computer with a bookshelf in the background, or worse, a FAKE background, you need to step it up.
You probably already have of this stuff, like a computer and video camera, so here's some other stuff to add it to make it a production. I've been doing them for 9 months now, and I'm getting GREAT feedback . . . because my videos look great and I'm bringing some flare to the event. My virtual keynotes and my emcee events look like productions. Sure you can book a virtual stage for about $400 or $500 an hour to go someplace and tape it, but you can also save your money by buying these tools. And they don't break the bank!
Here's the tools you need for a fun virtual keynote that looks great.
For broadcasting/recording your keynote or master of ceremonies event: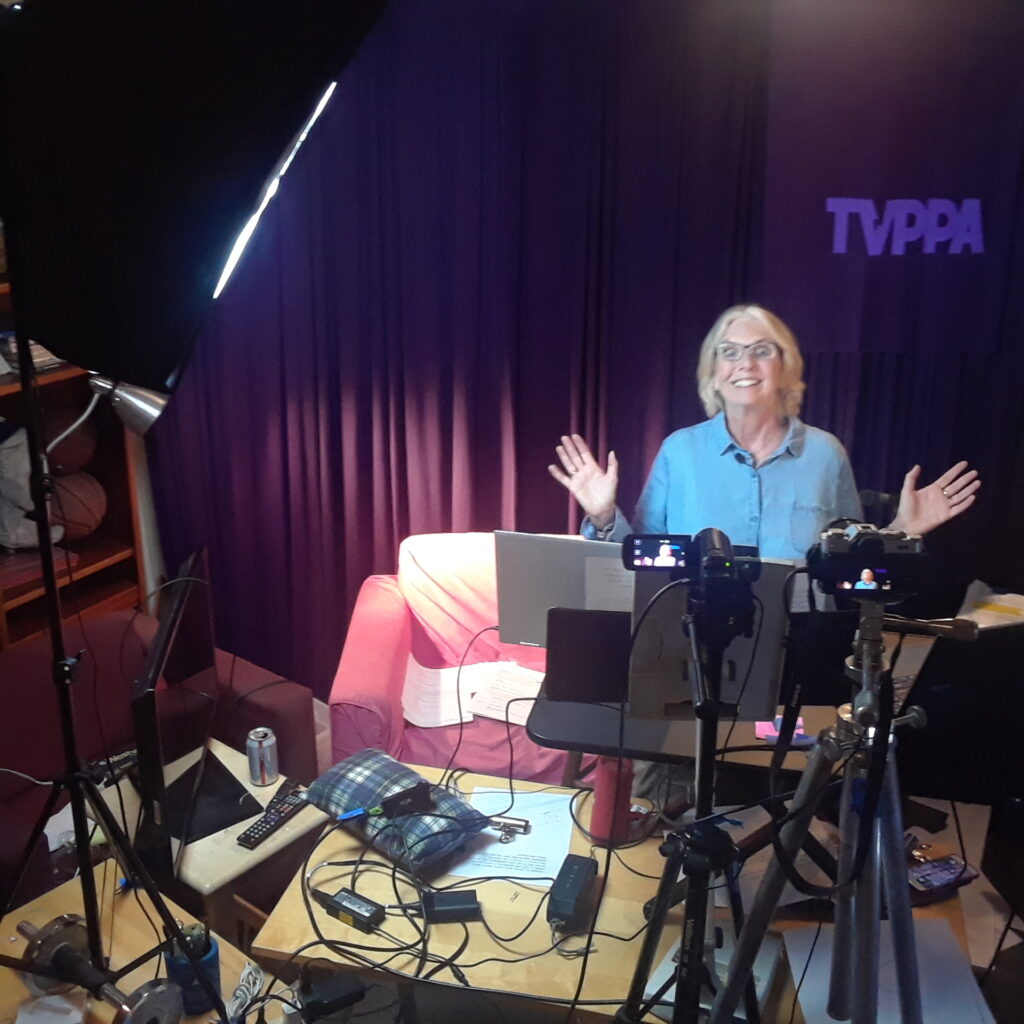 For the background of your keynote or master of ceremonies event:
PVC pipe – forget expensive stands, just use lightweight pvc pipe to frame your "stage."
Material – go to JoAnn's fabrics and get some fabric to drape over the pvc pipe.
Projector – I bought a used, old one for $40 and I project the client's logo behind me from a powerpoint slide. I have the slide on a (very) old computer. I'm sure you have one laying around somewhere. They have all the ports you need.
Additional stuff you may want for your keynote or master of ceremonies event:
Standup desk – okay, it's a half standup desk that sits on top of your desk. Very cool. https://www.amazon.com/gp/product/B07KFWJFVH/ref=ppx_yo_dt_b_asin_title_o06_s00?ie=UTF8&psc=1
Separate Monitor – any monitor you have laying around will work . just so you can see the chat box better and aren't trying to find it on your computer screen.
Bar stool AND small couch. When I'm the master of ceremonies, I usually have lots of time between keynote sessions, so I can sit on the couch and make notes, or sit on the barstool when I'm about to go on "stage."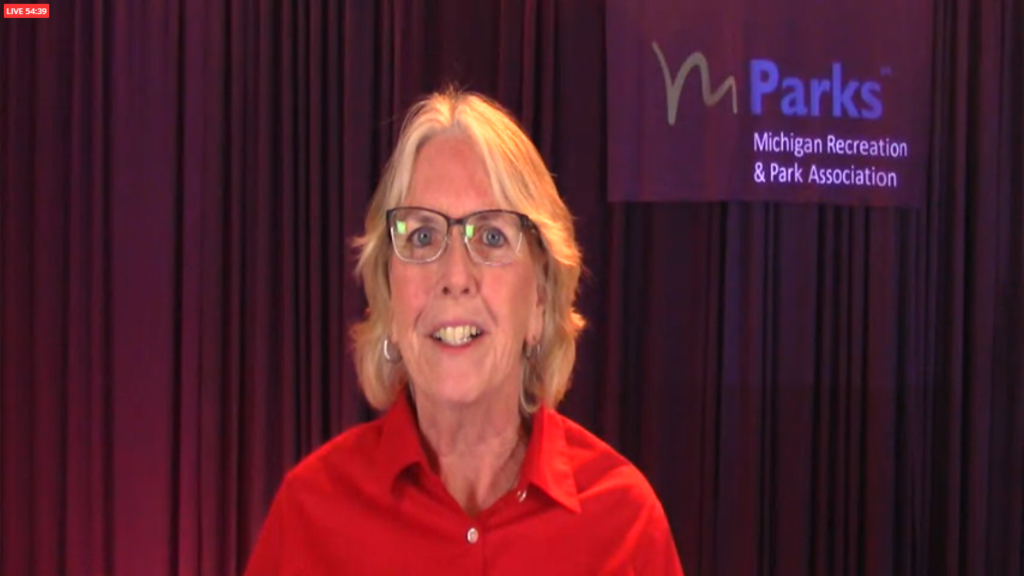 These seems like a lot of stuff, but you probably already a lot of it already, and most of the things you will buy are pretty cheap. So put a few bucks into this set up and you'll look great. I've made that money back many, many times over with my virtual keynotes and virtual master of ceremony events. You can too.
And as always, I'm happy to chat with anyone who would like some more clarification.
Jan
Click here to reach me:
It's tax day – so seize the day and write some tax jokes. . . okay I don't have tax jokes per se, but I've got some about money. But you can write tax jokes if you start listing all the things that irritate you about giving Uncle Sam your money. For example, pick one question and dig deep. Keep asking yourself Why would they take my money? They need it. . . They're mean. . . They bought a time share . . the more you keep asking, the funnier more outlandish answers you'll get.
Here's a few of my money jokes . . . Check out more of my clean comedy and humor keynotes at my websites below.
Thanks.
Jan
#taxjokes #moneyjokes #taxday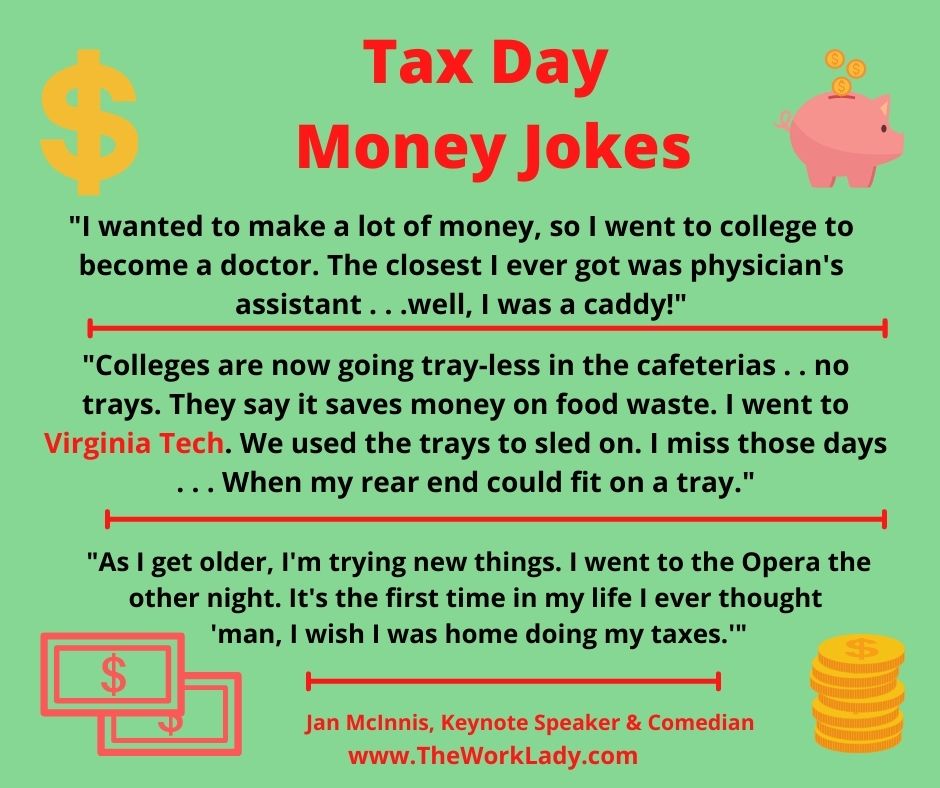 I saw this piece of paper in my office today . . . and realized it's from about 40 years ago. It's a chart showing how much money you'd have if you saved so much per day . . .back when the interest rates were 12%. Wow, you could actually make money on your bank savings account.
Looking this and comparing to today's prices is one way to find humor fast because there are so many different takes on it:
-We made 12% interest then and now we'd be thrilled got make .12% interest now.
-or maybe. . . I bought a house where the interest rate was 12% . . . you actually felt like you should stay home to enjoy your house AND you couldn't afford to go out anyway.
Look around your house or office and see if there's something that sparks some humor. And if these rates below had stayed the same, and I had saved $15/day starting at age 20, I'd have over 2 million in the bank . . not sure if that's funny or sad!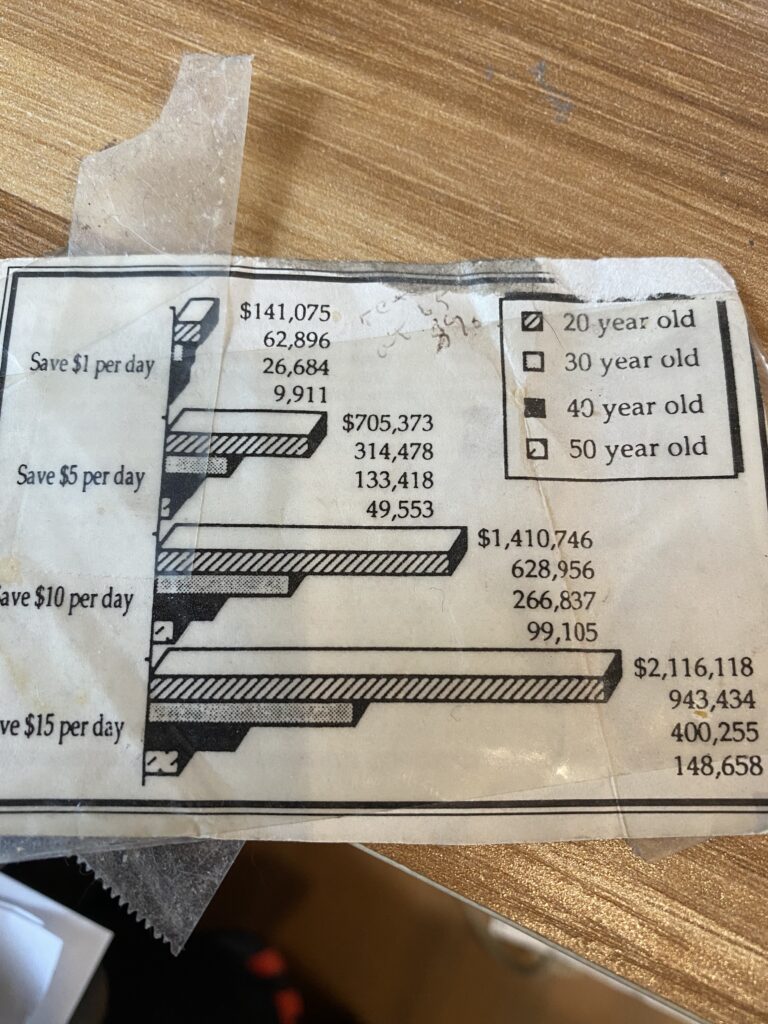 I'm finally using technology for comedy. . .sort of! I got the new-to-me iPhone 5 (with Siri of course) and there's a neat-o recording app that allows me to record comments. I know there's been other recording devices, and this really isn't a huge writing...